They're not a team that necessarily inspires thoughts of European Championship glory, but you'd be foolish to write off the hopes of Turkey at Euro 2016 just yet.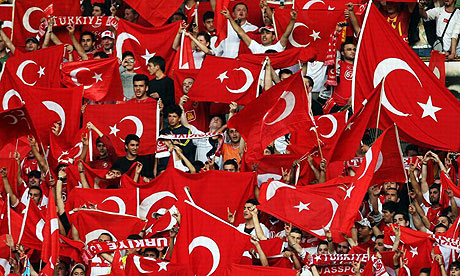 After all, they have qualified for just four major tournaments in their entire history; and reached the semi-finals at two and the quarters at another.
So with big match pedigree like that, surely the Turks have to be fancied to go well in France again this summer?
Well, that depends if you take the final standings in Group A of Euro '16 qualifying as read, or dig a bit deeper and find the story within the story. At face value, Turkey's third-place finish behind the Czech Republic and surprise package Iceland is nothing to write home about, and you would be right in thinking that that is the kind of form displayed by an also-ran, rather than a genuine contender.
But let's take a look at the hard facts: the Turks won their last three matches to secure qualification, with victories over Holland and Iceland sandwiching a 2-0 triumph over the Czechs in their own backyard. They have followed that with two friendly wins, over Sweden and Austria respectively, and their unbeaten run now stretches back to November 2014. Sometimes when you step back to look at the bigger picture the image becomes clearer.
Be under no illusions, few sides - if any – will enter Euro '16 in as confident mood as Turkey.
Lip Up Fatih
This is now coach Fatih Terim's third tenure as Turkey boss, and he currently boasts a win ratio of 68.97% born from a record that reads W20 D4 L5. To say the Reds are moving in the right direction under their favourite son would be something of an understatement.
Terim's time as Turkish titan has been littered with historic moments: under his guidance in 1996 the country qualified for a European Championship for the first time, and while they didn't pull up any trees it served as a warning as to what was to come. Fast forward 12 years and they were reaching the last four of Euro 2008, eventually losing to those pesky Germans.
Outside of Terim's regime there have been a number of other notable performances too, including a semi-final appearance at the World Cup of 2002 and a quarter-final showing at Euro 2000. If you needed any further persuasion that they will be a threat in France, that is it.
Turkey Crowned?
If Euro '16 has a group of death, then you would probably surmise that it is the fourth bracket featuring Turkey, Spain, Croatia and the Czech Republic. You could happily make a case for any of those sides to progress to the knockout phase, and if we all agree that the Spaniards will take top spot then that leaves one, maybe two places for the remaining three sides to duke it out for.
Turkey beat the Czechs in October remember, which will hand them a nice psychological advantage heading into their June 21 encounter, while Croatia's last three away matches (as of course they will all be in France) have returned a 0-0 draw with mighty Azerbaijan, a 0-2 loss to Norway and a 1-0 win over a Malta side that was comfortably beaten by those Azerbaijanis earlier in the campaign. Terim's men have absolutely nothing to fear in Group D.
Let's say for the sake of argument that Turkey finish third in their bracket. That would book them a Round of 16 clash with likely Group A winners France. No thanks. So they will need to finish second, ideally, to avoid one of the bigger boys in the playground. If they can do that, then a likely encounter with either Belgium or Italy awaits; and that's far more agreeable.
Come through that and they could meet Germany in the last eight, and should they somehow defeat the Germans then the French would potentially be waiting in the semi-finals. As draws go, it's not the best.
But as they showed at Euro 2000 and Euro 2008 (where they beat both Croatia and the Czech Republic incidentally), Turkey are very rarely overawed by pitting their wits against a more prestigious opponent.
The Likely Lads
Gone are the days of world-renowned superstars like Hakan Sukur, Rustu Recber and Emre, however. Nowadays Turkey are staffed by a squad of players who, by and large, ply their trade in the Turkish domestic league. Indeed, it is likely that up to eight of their starting eleven will be permed from Galatasaray, Besiktas, Fenerbahce and Bursaspor.
But be under no illusions: there's plenty of quality here. Arda Turan, their midfield schemer, has featured regularly for Barcelona this term, while Leverkusen's Hakan Calhanoglu is noted as one of the very best dead ball strikers in Europe. What a difference that could make in tight matches....
Up front Burak Yilmaz opted to take the money and run after Chinese side Beijing Guoan came in for him, and after banging in 136 goals in 253 games for the likes of Galatasaray and Trabzonspor he's now turning out in one of the fastest-growing leagues on the planet.
So everything is in place for a famous Turkey charge to the semi-finals at least, and there will be plenty of interest in the 9/1 available for them to achieve just that.